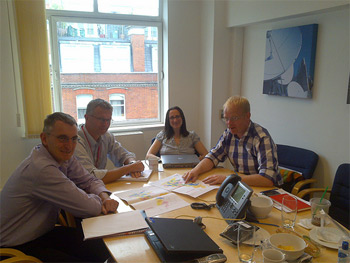 Hello.
We've been reading and replying to lots of the comments you've been writing and I thought it was probably time for a blog update.
To prove that there are some developments, honest, I snapped the picture above at a meeting we had recently. From the left David Peters and Paul Eaton (from Arqiva) and Nicky Tate and Gregory Wastson (from Folder Media/MuxCo). We met up to discuss the current situation and progress on the multiplexes. But what does that really mean?
First we compared notes on what we think is happening to local multiplexes across the UK, whether we felt that any were likely to merge or change shape, and whether this would affect frequency allocation or availability of frequencies. We then talked about our own areas and the pros and cons of combining any areas and especially what this would mean for frequencies – ie would we want to use one frequency for any enlarged areas or would we want to maintain the existing allocations and muxticast a combined multiplex across two frequencies. We were also weighing up the affect this could have over coverage (positive and negative) and how it would impact or benefit potential service providers. We're now going to be investigating some our thoughts with Ofcom's technical teams.
One question we're asked, is why change anything? Well, for me the key thing is looking at whether any of the industry changes will mean we can have better coverage for less money. I'm also keen to maximise the flexibility on the multiplexes going forward and to allow us to provide innovative (read cheap) solutions for service providers. In DAB's current development, is it better to cover larger local areas with some services that might traditionally appear on neighbouring multiplexes in the short term, and then split the multiplexes again when demand increases later on? Or does it really not make that much difference and should we proceed as planned? They're the kind of decisions we're making.
We also had some good discussions with Arqiva about how the contribution part (ie stations getting their signals to the multiplex) as well as the distribution (getting the multiplex feed) to the transmitters. Contribution is usually a fixed cost, whereas the cost of capacity depends on bitrates, therfore for smaller services it will be good to try and drive that cost down and hopefully encourage services to join the multiplex and to allow short-term services to take part as well.
All these discussions mean that Arqiva can now give us some firm quotations for the transmission costs of some of the earlier multiplexes planned. We can then move to final negotiations with them and then set prices for the service providers – allowing us to formally contract with them for carriage.  Then we can give Arqiva the OK to build the network, and away we'll go!
Matt.