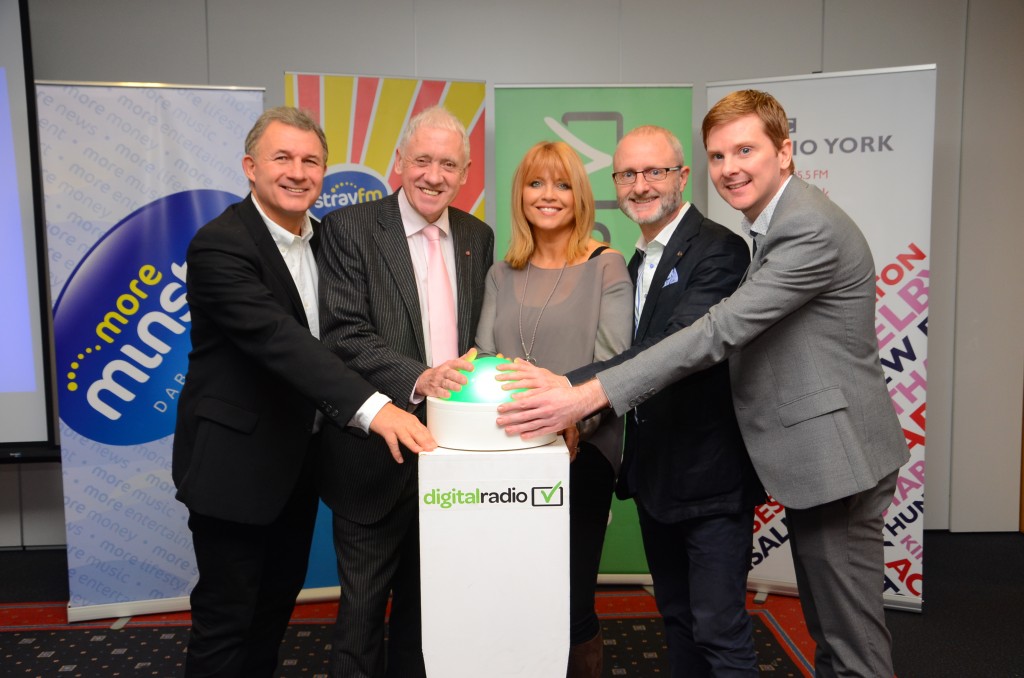 Local broadcasters Harry Gration from BBC Look North and Christine Talbot from ITV Yorkshire, together with Katherine Dow Blyton who plays the part of Harriet Finch in Emmerdale, gave a big boost to nearly 700,000 radio listeners in York, Harrogate and across North Yorkshire when they pressed a big green switch, switching-on four new digital radio transmitters. The switch-on means that 81% of listeners in North Yorkshire will be able to receive their favourite local radio stations – BBC Radio York, Stray FM, and Minster FM – on DAB digital radio in time for Christmas.
The big switch-on took place at The Racecourse in York. The four new transmitters launching at Bilsdale, Acklam Wold, Harrogate and Olivers Mount will bring DAB digital radio coverage for local stations from zero to over 81% of the population in the area – around 700,000 people – and they will add over 935km of roads into local DAB coverage for the first time.
Almost 60% of homes (57.9%) in North Yorkshire have a DAB digital radio, and nearly 40% of radio listening hours are to digital platforms (38.5%). Until now listeners in North Yorkshire haven't been able to receive any of their great local stations.
To receive the local North Yorkshire stations on DAB listeners with digital radios may have to retune their sets. Find out more at getdigitalradio.com/retune.
The switch-on comes in the run up to Christmas when 40% of radios are sold and coincides with a new digital radio advertising campaign featuring presenter and tech guru Suzi Perry which is running on BBC radio and commercial radio stations. The ads say that digital radios make perfect Christmas gifts and are available from only £30.
The new transmitters are part of an industry and Government programme of work that aims to expand the coverage and listening to DAB digital radio. National BBC DAB coverage has been increased to 95% of the population and the Government, BBC and commercial radio has agreed plans to build a further 200 local DAB transmitters to extend local DAB coverage to more than 90% of the population. This will make DAB available to an additional eight million listeners across the UK and add over 6,700 km of roads into coverage.
A cumulative total of over 20 million DAB digital radio sets have been sold to date in the UK. Digital radio is very popular in cars and almost 60% of new cars (58%) now come fitted with digital radio as standard (CAP/SMMT July 2014).
Ed Vaizey, Minister for Culture and the Digital Economy said: "I welcome today's big switch-on in York and wish BBC Radio York, Stray FM and Minster FM great success on DAB. The future of radio is digital and this is part of a major expansion of DAB digital radio coverage across the UK."
Ford Ennals, CEO Digital Radio UK said: "This is a big day for radio and for North Yorkshire. From today over 600,000 listeners will be able to receive their favourite local stations on DAB for the first time. "
Sanjiv Buttoo, Managing Editor of BBC Radio York said: "We're very excited that a digital switch- on for North Yorkshire is finally taking place. Our audience tell us they've been waiting to hear us on DAB for some time and it will be another way of being able to listen to North Yorkshire's only county wide station. BBC Radio York offers a rich variety of news, sport, music and personality – with programmes hosted by established presenters – which we know will be enhanced by this new service".
Bridget Davies, Managing Director of Minster FM, said: "We are delighted that Minster FM will be available on DAB for the first time. We know that many of our listeners have been looking forward to this and we hope that new listeners will discover Minster on DAB, and hear more of what has made Minster FM so successful in North Yorkshire for over 20 years."
Sarah Barry, Managing Director of Stray FM, said: "Stray FM epitomises what true local radio is about so we're delighted to offer our listeners in the Harrogate District another platform to listen to us on. We plan to offer a slightly different service on DAB which will enable us to deliver even more local content to both existing and new listeners alike. The Stray FM team are incredibly excited about the future and plans are well underway now. More details will be announced in the New Year but if you can't wait until then, contact me now at sarah.barry@strayfm.com"
Coverage
Photos
(Courtesy of RadioToday/Vinnie Lo)