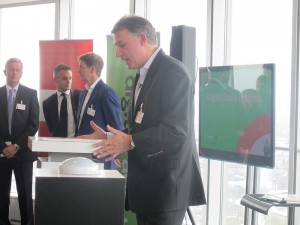 I went along to an event at BT Tower this week to 'switch on' an upgrade to London's DAB infrastructure.
Each area in the country has specific issues based on topography or land use and London's no exception. Central London suffers from a vast array of buildings of different types which cause DAB signals to be less than robust than those further out fed by the same transmitters. Digital Radio UK have co-ordinated an additional transmitter on BT Tower, alongside some additional power upgrades around the network to provide further resilience.
It's seen all the multiplex operators work together – London 1, 2 and 3 alongside D1 and the BBC to make this happen.
Whilst this may not affect where you live, it's an important demonstration of the industry's desire to ensure that digital radio's availability continues to improve.
There's more information on Digital Radio UK's website.