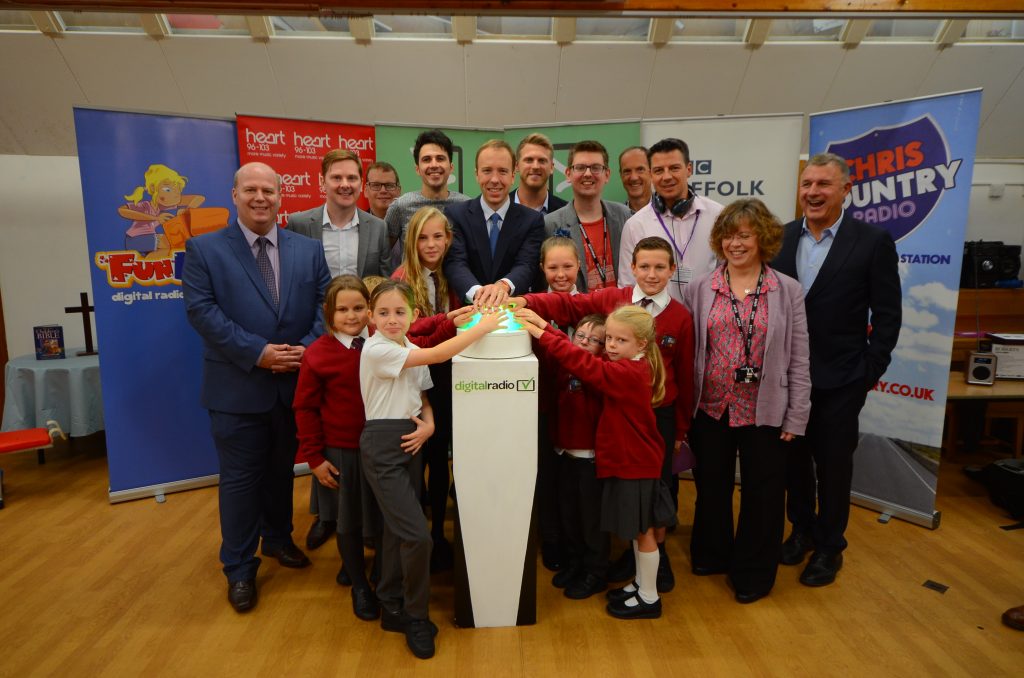 This morning, 7th October, we officially launched the Suffolk multiplex with local MP and digital Minister Matt Hancock at Ixworth Primary School near Bury St Edmunds.
It was a great morning, with representatives from all of the stations (Heart East Anglia, Smooth Radio, BBC Radio Suffolk, Chris Country, Suffolk First and Fun Kids) appearing at the event. We also broadcast into Heart's breakfast show, whilst BBC Radio Suffolk broadcast the launch live.
These events are important, as the station Breakfast show reach is strong, and it acts as a good focus for local press coverage too – all designed to encourage listeners to retune their digital radio.
Rt Hon Matt Hancock MP, Minister of State for Digital and Culture, said:
"It's great to see the continued rollout of DAB digital radio across the UK. Suffolk is served by a good variety of local stations, and I'm delighted that a further 425,000 listeners across Suffolk will now be able to hear these important and well-loved stations on digital radio"
Pip Whiteside, Head teacher, Ixworth CEVC Primary, said:
"We are absolutely thrilled to have hosted such an exciting occasion for the county at our school and to have welcomed our local MP and Suffolk's local stations. The pupils have loved the big green switch and finding out more about digital radio, especially a station that's just for them."
Peter Cook, Editor, BBC Radio Suffolk, said:
"This is wonderful news. We've waited a long time for local DAB to reach Suffolk and now it's here it means there's one more way that listeners can tune in to our local presenters, delivering the news, sport and fun that they love."
Adam Newstead, Managing Editor, Heart East Anglia, said:
"Heart is the nation's most popular commercial radio station and we are looking forward to bringing listeners in Suffolk more feel-good music on DAB digital radio."
Michael Betton, CEO, LincsFM, said:
"We are delighted to be launching Suffolk First, a brand new station for Suffolk's listeners, bringing them a mixture of country and contemporary music as well as local information for the county."
Chris Stevens, Founder, Chris Country Radio, said:
"I'm absoutely thrilled to add Suffolk to the growing list of places in the UK that can now enjoy Chis Country's 24-hour mix of American and British country music on DAB digital radio."
Matt Deegan, Creative Director, Fun Kids, said:
"Today's news means that kids across Suffolk will be able to tune into their only dedicated radio station – Fun Kids – and what better place to switch-on the new digital transmitters in Suffolk than Ixworth Primary School."
Gregory Watson, Managing Director, MuxCo Suffolk, said:
"I am delighted that we have been able to bring local DAB digital radio to Suffolk. We're proud of our role in expanding local DAB coverage and enabling new radio services to serve the county."
Ford Ennals, CEO, Digital Radio UK, said:
"Suffolk has a great variety of local digital stations so it's great news that a further 425,000 listeners will now be able to enjoy all their favourite local stations on DAB digital radio for the first time, as well as new stations broadening choice."